Aspiring medical professionals, your medical school interview is a crucial step towards fulfilling your dreams. It's your opportunity to showcase your passion, knowledge, and suitability for a career in healthcare.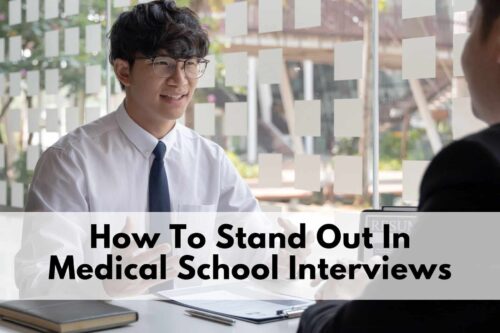 In this blog post, we will provide you with valuable advice and essential tips to help you stand out and make a lasting impression during your medical school interviews.
How To Nail Your Medical School Interview
1. Research, Prepare, and Practice
Thoroughly research the medical school's mission, curriculum, and values. Familiarize yourself with current healthcare issues and medical advancements. Prepare thoughtful answers to common interview questions and practice them with friends, family, or mentors.
2. Highlight Your Unique Experiences
Share your journey, emphasizing your unique experiences that have shaped your passion for medicine. Discuss your volunteer work, research projects, clinical experiences, or any leadership roles you've undertaken. Showcase how these experiences have contributed to your growth and dedication to serving others.
3. Demonstrate Strong Communication Skills
Effective communication is essential in the medical field. Practice active listening, maintain eye contact, and use clear and concise language during the interview. Show empathy, compassion, and cultural sensitivity in your responses.
4. Showcase Your Problem-Solving Abilities
Medical professionals must be skilled problem solvers. Be prepared to discuss real-life situations where you faced challenges and demonstrate your ability to think critically, make ethical decisions, and work in a team. Emphasize your adaptability and resilience in the face of difficult circumstances.
5. Exhibit Professionalism and Ethical Awareness
Medical schools seek students with a strong sense of professionalism and ethical responsibility. Understand medical ethics principles and be prepared to discuss ethical dilemmas. Emphasize your commitment to patient confidentiality, respect, and integrity.
6. Stay Updated on Healthcare Topics
Demonstrate your interest in current healthcare issues by staying updated on medical advancements, public health challenges, and policy changes. Show your dedication to lifelong learning and your willingness to contribute to the medical field's advancements.
Conclusion: Medical School Interviews
By following these tips, you can increase your chances of standing out during your medical school interviews. Remember to be authentic, passionate, and confident in sharing your journey and aspirations. Medical schools are looking for individuals who embody the qualities of a compassionate, knowledgeable, and dedicated healthcare professional. Best of luck on your journey to becoming a future medical student and making a positive impact in the field of medicine.
Remember to stay true to yourself and let your passion for medicine shine through during the interview process. Your dedication, knowledge, and genuine desire to make a difference will undoubtedly set you apart from other candidates.
Good luck on your journey to medical school!